Clients include National Laboratories, Universities, Government agencies and commercial organizations. MDI specializes in solving complex problems in applied glass materials and extreme environment materials handling.

MDI is dedicated to helping its clients add value to materials-related technologies. MDI's skillbase includes: novel glass materials synthesis, development, and characterization; process design and analysis; mechanical design; and laser beam and radio-frequency heater design, optimization and construction.
MDI can help you solve your materials development and instrumentation problems.

MDI is an Illinois corporation founded in 2006. The company has facilities at the Technology Innovation Center in Evanston, IL and in Arlington Heights, IL.

Molten samples levitating in MDI's High Temperature Conical Nozzle Levitator (HT-CNL™).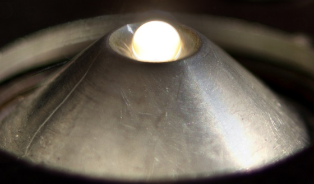 Materials Development, Inc. (MDI) provides instrumentation and materials support centered around containerless processing, specifically using acoustic levitation and aerodynamic levitation techniques. We offer a commercial line of acoustic levitators and aerodynamic levitators designed for an ever expanding range of sample compositions and processing environments. See our Products page for more information and detailed spec sheets, and contact us today about your specific needs.
MDI's mission is: "To provide the highest quality instrumentation, materials development and technical support services to clients who need to process materials in extreme, non-equilibrium or non-contact environments. We work with clients in the glass, ceramics, pharmaceutical and cosmetics areas at university, industrial and government organizations in the US and internationally. MDI's scientific and technical expertise sets us apart, allowing our team to solve difficult materials handling and processing problems. The solutions we develop and implement add value to our customer's existing products and accelerate the realization of new, competitive products."


MDI's SAL instrument is one of the "Top 100" in the 2019 Chicago Innovation Awards, Healthcare category see link: Top 100